Thursday, January 31, 2013
Today I'm linking up with Casey on Mama Style.
These images sum up my style pretty well. I'd say that I look for classic, easy pieces that I can sass up with something a little unexpected. It may be with a funky necklace, hat or fun shoes.
Right now I need something that can go from work to class, to the park, or out all in one day.
But I still want to express myself (the artist side of me) . Generally I will go for bright colors or graphic prints, sometimes together. And thats how I like it. My style inspiration since I was a child has been Ms. Frizzle from the Magic School bus. I know, I know. But really- she wears a classic cut with crazy colors and always has great shoes!!
Becoming a mama has made me feel more beautiful than I ever did before. Truly. I wouldn't necessarily say I'm one of those women who say that those stretch marks are my tiger stripes. I could do without that part, if we are being totally real here. Even though my body will never be the same again, It amazes me EVERY day that I was able to carry a little person for 9 months. And that makes me feel beautiful. It is as if being entrusted the great gift of another one's life just lit a fire inside of me. Just being H's mama makes me feel more myself than I ever felt before.
I think that growing into myself in that way helped me become more myself with my style too- to rock the colors that others may not think go together. To wear the jingly yellow Ms. Frizzle shoes.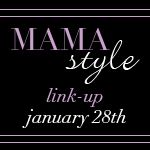 Posted by Emily Kate
at 8:48 PM
1 comments

Sunday, January 27, 2013
This sweater is a recent purchase at the J.Crew outlet near where i live.
It's cashmere. it's mint. it was on clearance.
I chose it not just because it is in the color of the moment. It reminds me if a sweater I had as a teenager.
I remember purchasing it from Benneton and it was kind of a big deal. It was part of a purchase of my first "grown up" clothes. It was to wear to work at my first job and for professional conferences I attended.
I remeber feeling pretty, feeling much more myself. I wore necklaces thAt I had made with it.
I wore it until it fell apart.
I love that clothes can carry a story like that. I think that is why I save my money for a few meaningful pieces like that rather than buying a lot of things I only wear once or twice.
>> Emily
Posted by Emily Kate
at 11:52 AM
0 comments

Monday, January 21, 2013
It's been a little warmer the past few days so I've been dreaming about wearing cute boho styles. Here are some things I'm loving.
Posted by Emily Kate
at 9:47 PM
1 comments

Whew... Well.. Here goes nothing!
This blog has been on my heart for a long time.
I was afraid for a long time that maybe it was just something I wanted to do, something I'd start and not finish. But I've wanted it long enough.
I've felt that I have a voice that I want to share for long enough.
Here I am!
I hope to share whats on my heart about being a mama, a wife, my love for art, food, and children.
I hope others connect with what I say, and that they may feel a kindred spirit in me.
I hope to add a little bit of "happy" to the world through this blog.
I want to have something that my son and husband can look back on, something that will document our wonderful, crazy life together.
I've entitled this blog "I love you, mean it" because thats what I say to those I love.
I want this blog to be a way of loving others.
love you, mean it.
Posted by Emily Kate
at 11:34 AM
0 comments